This is the first post in a new series in which we examine the journalistic ethics and practices of major news events. This week, we discuss our thoughts related to covering capital punishments.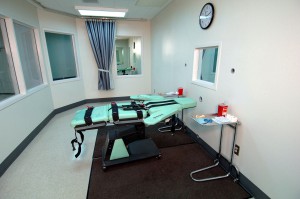 While journalists are often witnesses to executions, Kelly Gissendaner's death, which marked the first of a woman in Georgia in 70 years, was surrounded by increased media coverage.
Gissendaner was executed by lethal injection in Georgia just after midnight on Sept. 30 for her involvement in the 1997 murder of her husband. Five members of the media were present to watch her state-enforced death.
Here are a few discussion points we thought of when considering execution coverage.
What are the benefits of journalists present in witnessing an execution?
Given technological advances, what digital technology and social media platforms are best used to report the story?
Is live tweeting appropriate or should coverage wait until after the execution is complete?
Should the reporter assigned to cover the execution also write a first person narrative?
What privacies should be maintained on the part of the convict?
What do you think? Tweet us your thoughts at @ONASPJatUGA.