Welome
ONA and SPJ at UGA is a student organization with membership in the Society of Professional Journalists, the nation's largest journalism organization, and the Online News Association, an organization focused on bridging the intersection between journalism and technology. ONA and SPJ at UGA was founded by Lindsey Cook, Whitney Wyszynski and Alex Laughlin in 2013.
ONA/SPJ focuses on information sessions regarding First Amendment rights, the free flow of information and open government records. As a student-run organization, we act as a resource for student journalists by providing opportunities in the journalism field on current issues and trends in the industry.
Contact us at onaspj@gmail.com.
ONA/SPJ UGA 2019 Executive Board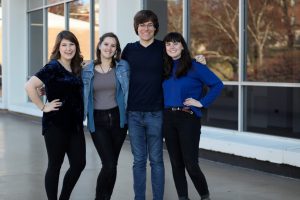 Ashlyn Webb, president

Ashlyn is a senior at the University of Georgia, more bio TK.
Follow her on twitter, and check out her website
Kelly Mayes, vice president

Kelly is a senior journalism and ecology major. More bio TK
Follow her on Twitter, and check out her website
Amy Scott, digital director

Amy is a senior journalism major. More bio tk Follow her on Twitter, and check out her website
Joshua Tillman, executive planner.

Joshua is a senior journalism major. More bio tk. Check out his Twitter and website